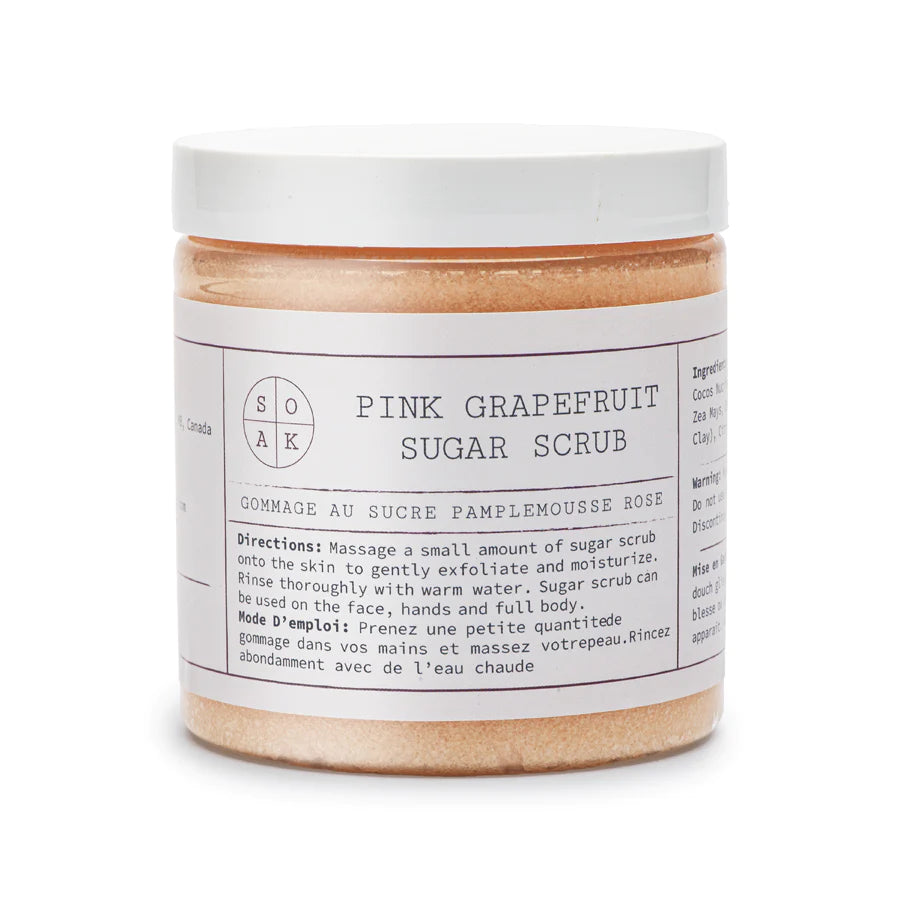 Pink Grapefruit Sugar Scrub
$14.75
Pink Grapefruit Sugar Scrub (8 ounce)

The Pink Grapefruit Sugar Scrub by SOAK Bath Co was created to be ultra moisturizing and to bring a splash of brightness to your skincare routine. Scented with a cheery blend of Grapefruit Essential Oil, it's just the aroma you'll love to reach for when it's time to exfoliate! 
The Pink Grapefruit Sugar Scrub is made with a blend of coconut oil and sweet almond oil to create a moisturizing and exfoliating experience.
This Sugar Scrub is meant to be used for full body and can be used as a lip scrub!
Scent Profile
This scrub is scented with Grapefruit Essential Oil giving it a beautiful citrus scent. Smells just like a fresh squeezed grapefruit!
How to Use
While in the shower or in the bathtub, scoop a small portion of the sugar scrub into your hand. Massage the sugar scrub against your skin, this scrub is great for exfoliating and moisturizing really dry places on the skin (like knees and elbows). Massage against the skin to work the oils in and the sugar may dissolve. Then rinse off. 
Caring for Your Sugar Scrub
The Pink Grapefruit Sugar Scrub features coconut oil, which naturally solidifies at room temperature. Once the temperature gets above 23 degrees Celcius, coconut oil melts and begins to liquify. 
If you store the Sugar Scrub in a warm place, it's possible the scrub will begin to liquify. If this happens, just pop the scrub into the fridge for an hour and it will return to its original, solid consistency. It may need a quick stir with a teaspoon. 
For this reason, the Sugar Scrub will only ship in the cold, winter months. If you've fallen in love with it, stock up while the chilly weather lasts!