Tips & Inspiration
Creating a Christmas Wonderland: A Guide to Christmas Greenery Decoration
Oct 31, 2023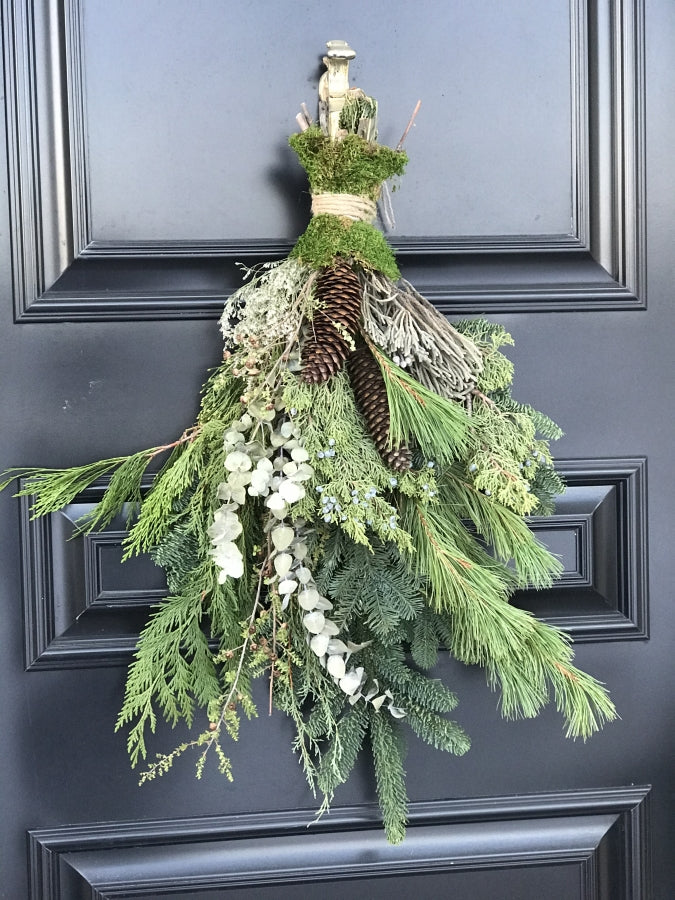 When the holidays arrive, the scent of Christmas greenery is simply magical. It's like stepping into a winter wonderland.
In this blog, Terra Plants and Flowers will show you how to make your home smell like Christmas with Christmas Greenery Decorations. 
You could be on your own, with family, or a decorator. We've got creative Ideas for Christmas Greenery to turn your home into a holiday haven.
Types of Christmas Greenery
To set the stage for a Christmas-scented home, you need to know your greenery options. Various types of greenery can be used for decorating during the holiday season. 
From classic favourites to unique choices, you have a wide range to explore:
Pine Branches: Pine, with its classic charm and

 

lovely aroma, stands out as a quintessential choice. Its deep green needles are reminiscent of a lush forest. It makes it the perfect candidate for crafting wreaths and adorning garlands. This scent infuses your home with the authentic scent of the holiday season.
Fir: The elegance of

 

fir trees

 

is surpassed only by their fresh and pleasantly fragrant presence. Use fir branches for:

Your holiday décor. 
Crafting welcoming wreaths for your front door.
Or creating captivating centrepieces that everyone around your holiday table will admire. 
Cedar:

 

With its rich and comforting scent, cedar is the epitome of holiday festivity. Its versatility knows no bounds. You could:

Create fashion garlands to drape gracefully along your staircases; 
Craft timeless wreaths to hang on your doors; 
Assemble captivating tabletop displays adorned with cedar branches.
These ideas will ensure your home exudes the warmth and charm of the holiday season.
Eucalyptus:

 

Eucalyptus

 

brings a breath of fresh air to your holiday decor. It offers a fragrance that is both unique and refreshingly invigorating. Elevate your seasonal ambiance with the modern twist of eucalyptus garlands. It provides a delightful aroma and an aesthetic harmonizing with contemporary holiday themes to elevate your Christmas Greenery Home Decor.
Holly:

 

Transport yourself to a traditional Christmas wonderland with the iconic holly. Its vibrant red berries and glossy green leaves evoke the season's spirit with unmatched enthusiasm. Are you arranging holly for decorative purposes or crafting wreaths? This classic greenery is the quintessential choice. It creates an atmosphere steeped in timeless holiday traditions to complete your Christmas Greenery Themes.
By using various Christmas greenery types, you'll add a delightful scent to your home and create a visually stunning atmosphere.
How to Choose the Right Greenery?
When selecting Christmas greenery, it's crucial to consider factors such as freshness, durability, and fragrance.
Freshness is key, as the aroma of greenery is at its peak when it's freshly harvested. 
Ensure your greenery is from reputable suppliers, like Terra Plants and Flowers and guarantee the best quality.
Additionally, opt for greenery that suits your decor style, whether traditional, rustic, or modern. Mix and match different greenery types to achieve a unique and pleasing scent and look.
Incorporating Greenery into Themes
One of the exciting aspects of decorating with Christmas greenery is the opportunity to create themed displays. 
Even if you're aiming for a classic, rustic, or contemporary Christmas theme, greenery can be your ally.
Classic Christmas:

 

For a timeless look, use red and green accents alongside your greenery. Hang mistletoe, arrange holly wreaths, and set up a lush

 

pine garland. The classic scent of evergreens will take center stage.
Rustic Charm:

 

If you prefer a rustic theme, combine pinecones, burlap, and natural wood elements with your greenery. This combination captures the cozy essence of a cabin in the woods.
Contemporary Elegance: Create a modern and elegant atmosphere with sleek metallic accents and minimalist greenery arrangements. Eucalyptus and silver or gold ornaments can lend a contemporary touch to your decor.
Bringing Christmas Home with Terra Plants and Flowers
This holiday season, make your home feel like Christmas by incorporating Christmas greenery decorations. 
With a wide array of greenery types to choose from and a bit of creativity, you can transform your living space into a cozy winter retreat. 
You could be celebrating with family or showcasing your decorating skills. Christmas greenery can truly make your home inviting and full of holiday spirit.
For all your Christmas greenery needs, visit Terra Plants and Flowers. 
You can find the freshest and most aromatic greenery to make your holiday season unforgettable.