Tips & Inspiration
Christmas Centerpieces to Enliven Your Home
Nov 02, 2023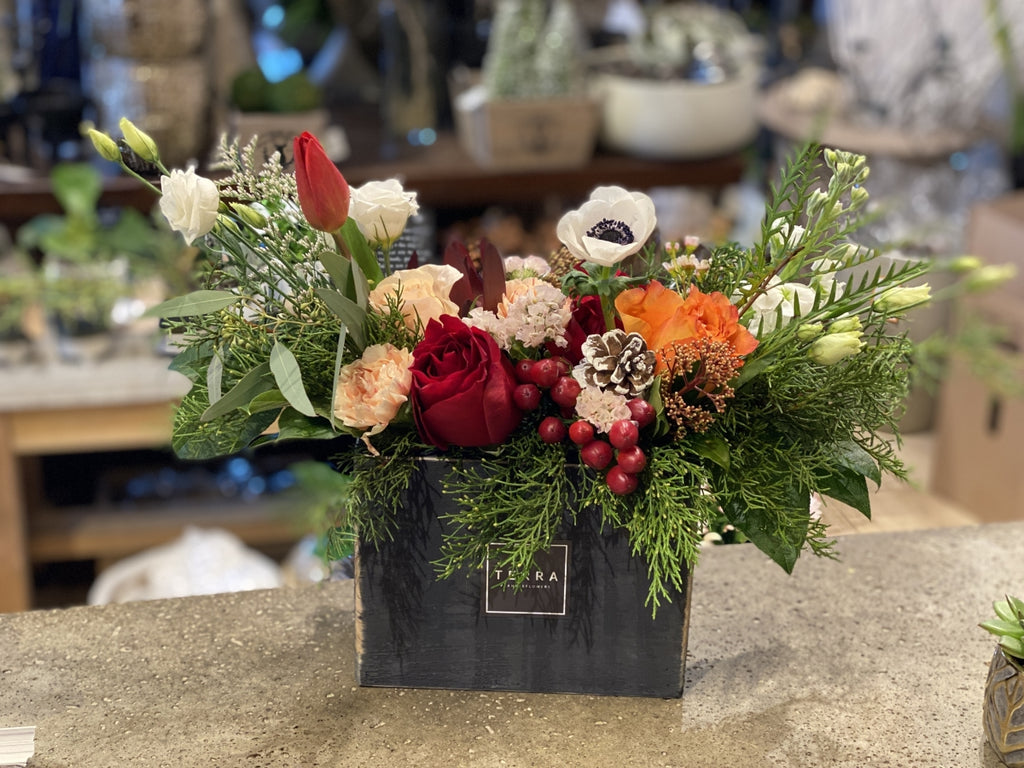 Christmas centerpieces are all-important. As any accomplished host will tell you, holiday cheer is all in the décor - the bright, twinkling sights that light up our homes, the traditional spicy, warm scents of cookies, and the sounds of carols and children's laughter that delight our senses.
Christmas trees and traditional wreaths do help set the stage for holiday cheer. Still, this season provides the perfect opportunity to indulge in lovingly customized floral arrangements that make festive occasions all the more special, and nobody knows the value of original, carefully thought-out floral décor better than the experts at Terra Plants & Flowers. Tablespaces from Terra Plants & Flowers bring memorable greenery, warmth, and elegance to any holiday gathering.
The Importance of a Captivating Christmas Centrepiece
Attractive Christmas centrepieces draw the eye to the table and make our mouths water for the feast ahead. The life-affirming presence of flowers and greenery brightens our homes at a time when the outdoor scenery is often dreary and cold.
So many of our fondest memories centre around a beautifully set dinner table where considerable effort has gone into hauling out the good china and crockery, the choice of linens and napkins, as well as the centrepiece design.
It is tables like this that give rise to decadently rich meals and stimulate the easy flow of conversation and plentiful laughter, so who wouldn't want their table display to be an ice-breaking showstopper worthy of a few delighted oohs and ahs?
Best Christmas Centrepiece Ideas
Christmas centrepiece inspiration is limitless. The ideas you can dream up, the unusual themes or colours you opt for, and the things you might wish to include in your tablescape are restricted only by your imagination.
Changing Things Up
Old-fashioned lanterns and candles always make lovely accents – just ensure they won't be easily knocked over and cause a fire. Votives are ideal as they won't tip over if bumped and can be housed in jewel-toned glassware that gives off a festive glow.
These can be interspersed with bits of greenery, berries, edible items like candy canes, chocolate balls, lengths of strung popcorn, and pretty Christmas ornaments or velvet bows. At the same time, glass or crystalware and polished metallic candlestick holders add a bit of shimmer and shine.
A Table-top Christmas Tree
Christmas centrepieces don't have to be composed of flowers. You may echo your large Christmas tree with a mini table-top version. If you have lost loved ones, a poignant use of the tree is to display photographs of your loved ones or to use ornaments that celebrate them in some way.
This idea is best used as a centrepiece on a serving table, so nobody has to crane their necks to see around the tree when engaging in conversation.
Back to Basics
Glass vases, mason jars, or bottles grouped or in a central line help create simple, versatile centrepieces. This trend creates a simple, homely feel and depending on what you use to fill the bottles or jars, be it candles surrounded by cones and berries, fruit, decorative balls, flowers, or even unusual ornaments and glitter to give the impression of a snowglobe, you can conjure up many unusual looks.
Best Christmas Centrepiece Ideas with Flowers
The size and placement of your Christmas centrepiece is an important consideration.
Size Matters
Conversation around the dinner table will be disrupted by having an enormous display in the middle of your table, and it may be awkward to pass the turkey over to someone on the far side of a massive in-your-face arrangement.
Most floral centrepieces have a central component. Depending on the size of the table, this may be flanked by satellite arrangements. A low table-length arrangement is even an option.
Don't rule "oversized and riotous" if that is what you have your heart set on.
Consider placing a large centrepiece on the serving table if you have one and having a lower arrangement for the dinner table. Alternatively, you might hire or invest in a stand that will lift the display above guests' heads.If it isn't too heavy, you may wish to suspend your arrangement above the table as a "floating" centrepiece. Dangling stars or snowflakes would add to the notion.
Another option is to use metal hoops painted to match your décor theme to display flowers, foliage, and pretty bows. This whimsical idea updates the traditional centrepiece and ensures you can see other dinner guests across the table. (Secure with a stable "foot" to ensure they don't cause pandemonium by rolling off the table.)

Poinsettia - A Reliable Staple
Flowers form a big part of the traditional Christmas. For instance, a rustic scene might include simple beribboned pots of that Christmas staple, the scarlet poinsettia either grouped for a central display or placed at regular intervals on wooden log rounds down the length of a table and perhaps also dotted about on occasional tables and the mantel.
Interestingly, the star shape of the poinsettia is representative of the Star of Bethlehem. As the Christmas card illustrators' go-to, the classic red-against-green foliage of this Christmas staple is suited to a traditional look. But don't forget the white and peachy pink versions, which can look just as good as the more showy red version.
Be Original
Interspersing table centrepieces with feathers, grasses, seedheads, twigs (either plain or painted white), and even attractive dried leaves create an autumn-inspired textural feel. Add fruit, such as juicy red apples, pomegranates, cranberries, limes, and dried orange slices for colour and interest.
Old School
You may choose the traditional route, decking the halls with boughs of ivy, mistletoe, pine cones, and holly. 
Holly is fittingly known to be a symbol of both fertility and eternal life. It has been accepted by Christians as part of their celebrations, even though it was once thought the flower was magical. Today, the plant's berries symbolise Christ's blood, and the sharp leaves, the thorns of his crown.
Berry Merry
Berries are usually easy to find, either in your garden or in your favourite store. They are a simple way to add a touch of Christmas colour, whether used as a sprig on their own or incorporated in a flower arrangement, garland, or wreath.
Glorious Garlands
Set off simple pots of flowers by snaking garlands of evergreens down the length of the table to provide contrast and bring to mind the Victorian period when it was considered de rigueur to strew garlands of holly and fir on the mantelpiece and bannister.
The Timeless Rose
Christmas centrepiece inspiration has often come from another floral classic, the rose. This scented holiday favourite is available in red and green Christmassy hues and almost any colour you can dream up. What could be prettier than a pale pink rose if pastels are your thing?
Imagine a wreath dotted with roses and festive hypericum surrounding an elegant pillar candle. Or you can alternate single stems down the length of the table with candles for a festive glow. Ornaments and greenery could be arranged as a backdrop to highlight these elements.
A Glamorous White Christmas
Baby's breath and evergreens pair seamlessly with white roses, lilies, and chrysanthemums - which symbolise happiness, longevity, love, and joy - Star of Bethlehem flowers, and gleaming metallics for a glamorous, glitzy winter wonderland centrepiece.
The legend surrounding the Star of Bethlehem flower has it that once the beautiful star had guided the wise men to Baby Jesus, it exploded into millions of tiny fragments that became the Star of Bethlehem flowers.Snowy white orchids are ideal gifts and can be used to pull off a minimalist version of the glitz and glam theme and add a touch of class to your holiday offering.
Heavenly Hydrangea
Hydrangeas are voluminous flowers that fill a vase beautifully and come in various pastel colours. A lacy white variety adorned with metallic Christmas balls that echo the shape of their spherical heads might be just the ticket as a dreamy Christmas centrepiece.
Rich Reds and Green
For the red and green traditionalist, what could be easier than popping a few cut evergreen branches and hypericum in with stunning red roses, dahlias, ranunculus, tulips, or peonies to achieve the festive flavour you're after?
Amaryllis Aesthetics
Whether red, white, or multi-coloured, long-stemmed, elegant Amaryllis symbolise faith and love, determination, and the overcoming of hurdles in life. Surrounded with holiday elements such as wrapped Christmas gifts, they tie in perfectly with a candy cane theme.
Where Can I Find a Custom Christmas Centrepiece?
Whether it is an occasion-specific centrepiece, bouquet, festive urn, wreath or garland you're after, Terra Plants & Flowers, based in Ottawa, will produce a reasonably-priced, unique artisanal arrangement to suit your Christmas whims.
We even stock a section of indoor plants to liven up dead spaces in the event of a Christmas décor crisis. You won't find better quality blooms than those used in our customised designs for our clients. 
Contact Terra Plants & Flowers at terraplantsandflowers@gmail.com