Tips & Inspiration
Why the Poinsettia is so well-known as a Christmas flower
Sep 25, 2023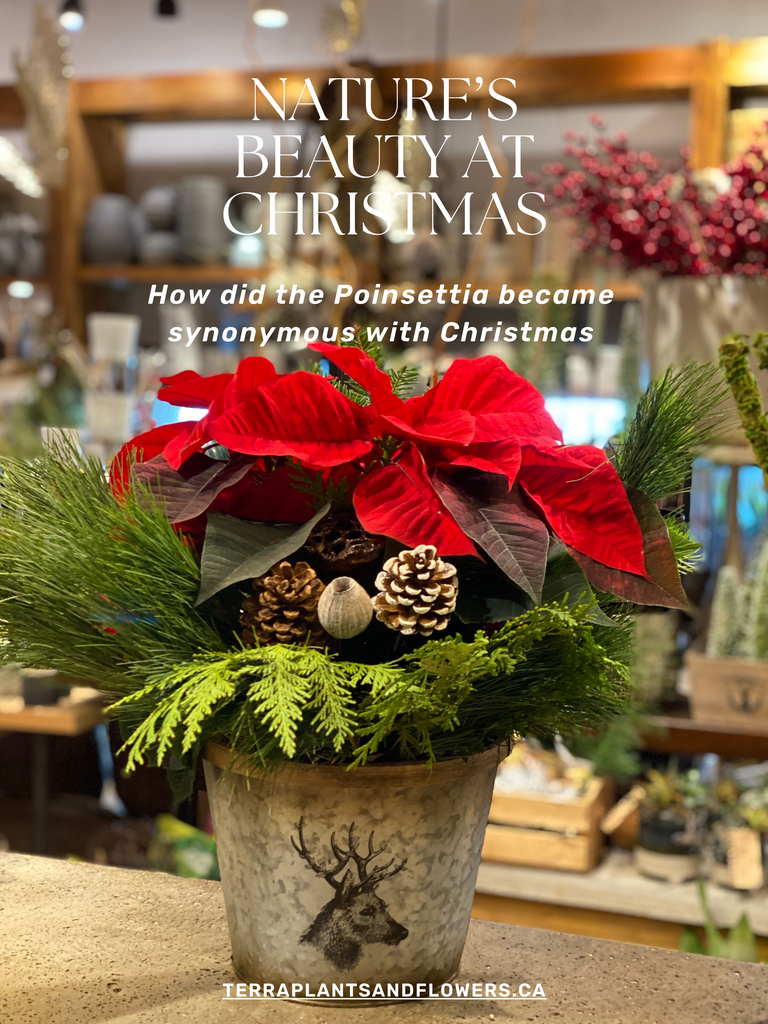 Nature's beauty at Christmas.
The Poinsettia is popular in holiday decor and as a gift during Christmas time. Learn more about this plant's history, as well as how to care for it. 
How did the Poinsettia became synonymous with Christmas?                                                                                             
The Poinsettia is often seen as the quintessential flower of Christmas and is a key part of holiday flower arrangements during the festive season. How did this brightly-coloured plant became so closely associated with Christmas?
The story behind the poinsettia as a symbol of Christmas dates back to 16th century Mexico, where legend has it that a young girl named Pepita had no money to give the church at Christmas Eve services. Being as poor as she was, she gathered weeds from the roadside and fashioned them into a small bouquet. According to legend, when she placed these weeds on the church altar, they miraculously blossomed into bright red Poinsettias. This story about Pepita and her ugly-to-beautiful offering is the reason why Mexicans refer to the plant as "The Flower of the Holy Night."
In modern times, Poinsettias are widely associated with Christmas due to their vibrancy and delightful shapes. They come in an array of colours ranging from classic reds and whites to pinks and purples, making them perfect for holiday decorating. Many people enjoy bringing the poinsettia into their home as part of a festive holiday display.
How to take care of Poinsettia?
Take care of your Poinsettia by making sure to keep it away from drafts and areas of extreme heat or cold, as these can shorten the life of this beautiful flower. In addition, be sure to water your poinsettia regularly and use special fertilizers specifically designed for Poinsettias in order to ensure that it remains at its peak for as long as possible. With proper care, your Poinsettia will bring joy and beauty into your home during the Christmas season. 
Poinsettias make a perfect gift during the Christmas holiday.
A Poinsettia also makes an excellent gift for friends and family during the Christmas holidays. Whether you choose to bring the potted flower to a holiday party as a host/hostess gift or make flower arrangement mix with Poinsettia. Terra Plants and Flowers has a variety of flower options and can provide same day flower delivery in Ottawa area. Your loved one is sure to appreciate the beautiful and thoughtful gesture. And your don't need to worry about pets or kids, because despite a bad reputation, Poinsettias are actually not as toxic as widely believed.