Tips & Inspiration
Useful Tips on How to choose the right Funeral Flowers.
Sep 24, 2023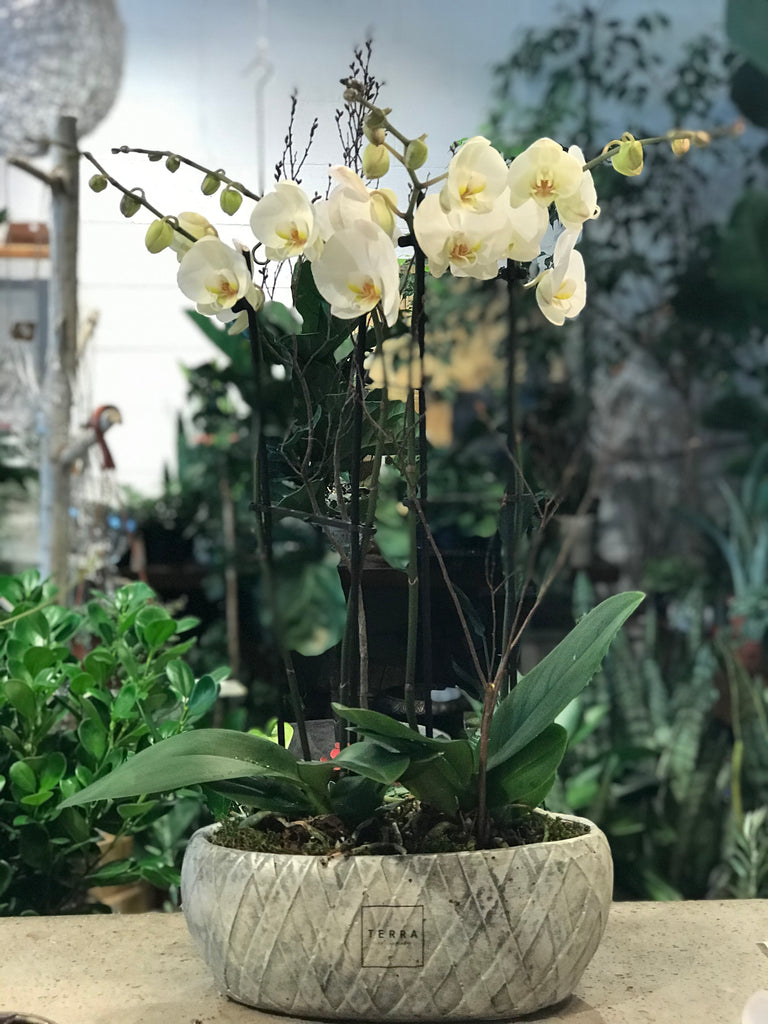 Thinking about the proper flowers to send to a funeral? Here are some flower suggestions to help you express your sympathy.
Choose the Right Flowers for Expressing Sympathy at a Funeral
When a loved one passes away, the agony and grief that follow can be overwhelming. You may be at a loss for words to convey your sorrow and compassion in a way that honour the deceased. Funeral flowers have a way of conveying these thoughts with the elegance and beauty they deserve. There are certain flowers that represent all the words that may be difficult to speak during a funeral. If you want to show sympathy to those who have lost a loved one and aren't sure what flowers to send in memoriam, check out our top 5 suggestions below: 
1. Orchids
 Orchids are delicate flowers known for their timeless elegance. These unique flowers symbolize eternal love, courage and hope. They are a flower beloved for their beauty and grace. Sending orchids to a funeral represents the strength of your love and shows your sympathy in a distinctive way. All colours of orchids are lovely; however, it is best to send white or light pink orchids to express your condolences. If you are looking for Funeral flowers to send in Ottawa, Terra Plants and Flowers carry a wide variety of Orchids. 
2. Lilies
Lilies are a traditional funeral flowers to send as a way to express your respect. They are a common flower seen in mourning because of what they symbolize. Through the ages, lilies are seen as a symbol of innocence and purity of the soul. White lilies are most commonly used as funeral flowers because they represent calming peace. Sending lilies to a funeral service helps convey the message of a dignified and pure soul at rest. 
3. Roses 
Roses are another traditional choice of flower to send to a funeral service. These timeless flowers show your love and devotion. Sending roses can articulate your bereavement and your admiration with elegance. Roses have many different meanings in relation to grief based on colour. If you want to convey your adoration, red is the perfect colour, while white roses symbolize reverence for the departed. If you want to express friendship and the celebration of life, yellow roses are a great choice. 
 4. Hydrangea
If you want to send a one-of-a-kind arrangement to offer your condolences, hydrangeas are the flower to use. They are wonderful flowers that hold a variety of meanings, including representing sincerity, grief, and gratitude. If you want to convey sincerity in your condolences, you can send a pink hydrangea flower arrangement. White represents your gratitude for the departed individual's grace. If you want to avoid sending the wrong message, then be careful not to send blue hydrangeas as they are often understood as symbolizing rejection. 
5. Chrysanthemums 
When you want to send an arrangement from your local flower shop in Ottawa but are unsure of the appropriate blooms, ask for chrysanthemums. Chrysanthemums, also known as mums, are commonly used in funeral flower arrangements and sprays. They are delicate flowers that are representative of the fragility and beauty of life. White mums are the most cherished flower to gift for sympathy because they represent support and bereavement. Red mums are used to convey love and adoration. Yellow mums can also be used to express your deep sorrow at the loss of a loved one in your friends' family. 
If you need guidance on funeral flowers in Ottawa, Terra Plants and Flowers can create an arrangement that will appropriately convey your sympathy and support. We also offer convenient flower delivery in Ottawa